THE COVE VILLA
Layout
A place where peace, quiet and calm are combined with luxury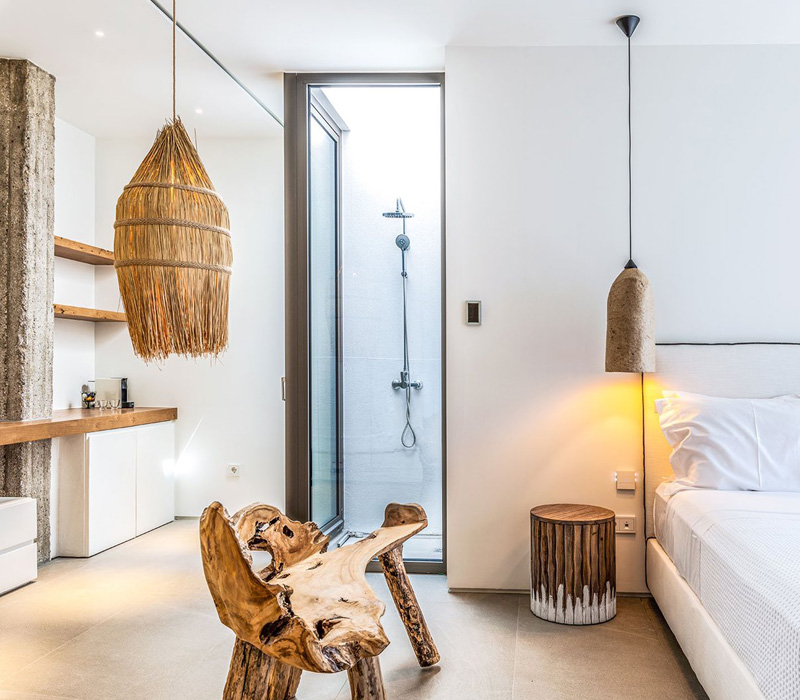 The property includes the main house and a smaller independent guesthouse. It can accommodate 12 people in total.
The main house hosts the main interior living and dining spaces which include a spacious and fully-equipped kitchen, a wine room, an outdoor home theatre space and the gym. It also houses 4 en suite bedrooms, 2 of which are master bedrooms.
The guesthouse hosts a large apartment which features a double bed, the living room area with a small kitchen and a sofa which turns into a double bed plus 2 bathrooms. The apartment can be separated into 2 smaller ones, each with its own bathroom. In total, the house features 6 bedrooms and bathrooms with the addition of a guest WC and a WC for the gym.
A luxury home away from home
Designed as a privileged, almost private place where you'll feel right at home, it is a 5000m² haven that you will love coming back to every time you are in Mykonos. The Cove Villa, built in 2019 in a unique subterranean architectural style, is located in an exceptional private and quiet location is only 5 minutes away from the centre of Mykonos (Chora).
Sleep in your luxurious, little slice of paradise and wake up in the idyllic beatitude that the island has to offer.
This special pavilion offers the best views of the surrounding nature. You can relax watching a film on one of the flat screen TVs or on the external home theatre, tune into the local satellite programmes or use your mobile's Bluetooth to fill this luxury villa with your favourite music.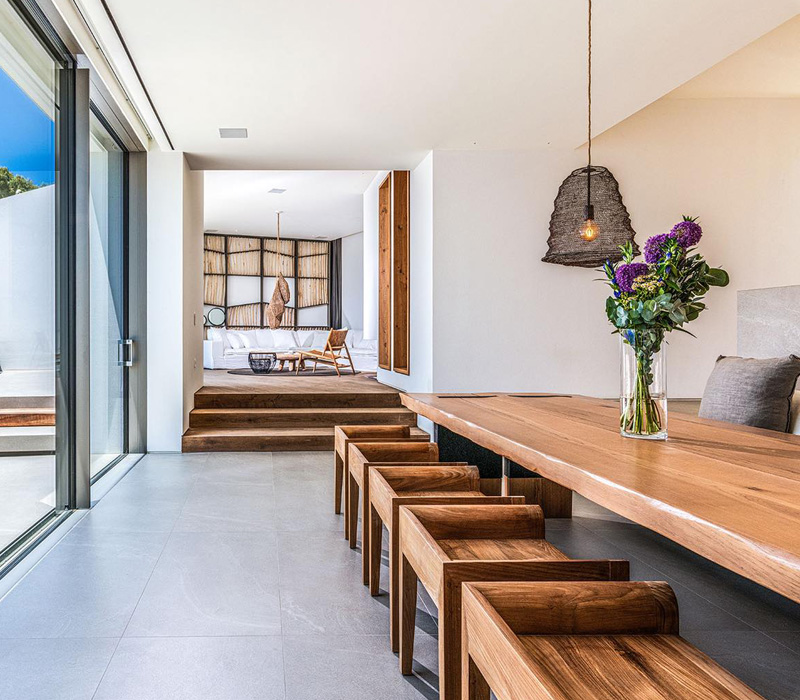 Stylish Interior
Whether you are looking for décor that ranges from sleek minimalism to Mediterranean design, the one element that overrides all others is none other than luxurious comfort. The interior is designed with clear lines and a simple colour palette of intriguing white tones, grey highlights and beautiful wooden surfaces.
Its minimal decoration relaxes even the busiest of occupants.
The open plan kitchen with its large cooking areas can satisfy every culinary desire while the wine room, home theatre space and the gym provide for an all-around experience. Each element is designed to enhance the serenity of the area, as well as reflect the quiet elegance of Mykonian design.
Stunning Exterior
Indoor elegance should always be matched with outdoor style and sophistication.
The lounge and dining areas were designed to provide for maximum sky and sea view while the large private infinity pool can immerse everyone into the calm. Its orientation provides for exceptional nightfall sea views, overlooking the infinite blue of the Aegean Sea and the sunset coast of Agios Stefanos. A total area of 450m² accompanied by the 500m² exterior deck where all dreams come true.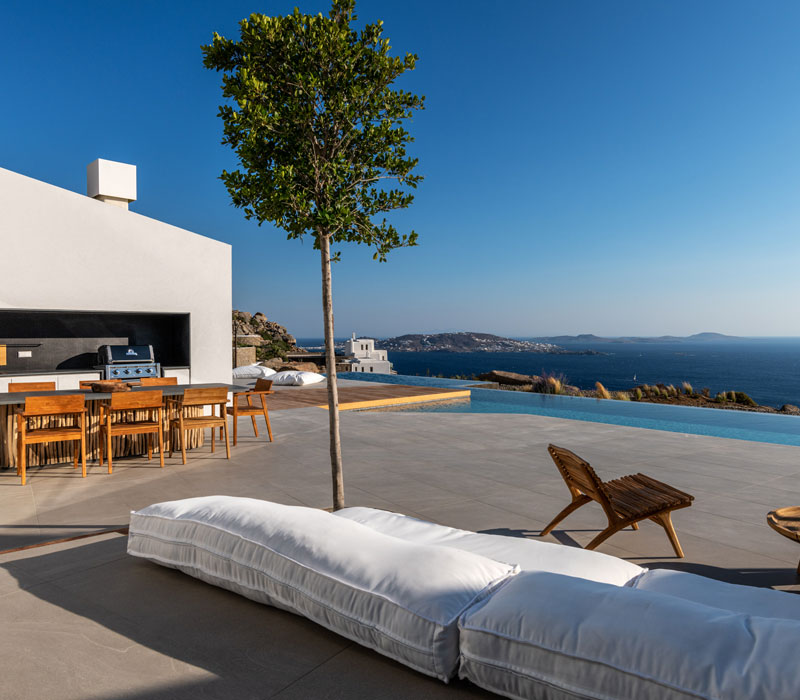 THE COVE VILLA
Features & Amenities
Each element is designed to enhance the serenity of the area, as well as reflect the quiet elegance of Mykonian design.

FEATURES & AMENITIES
Guesthouse
FEATURES & AMENITIES
Outdoors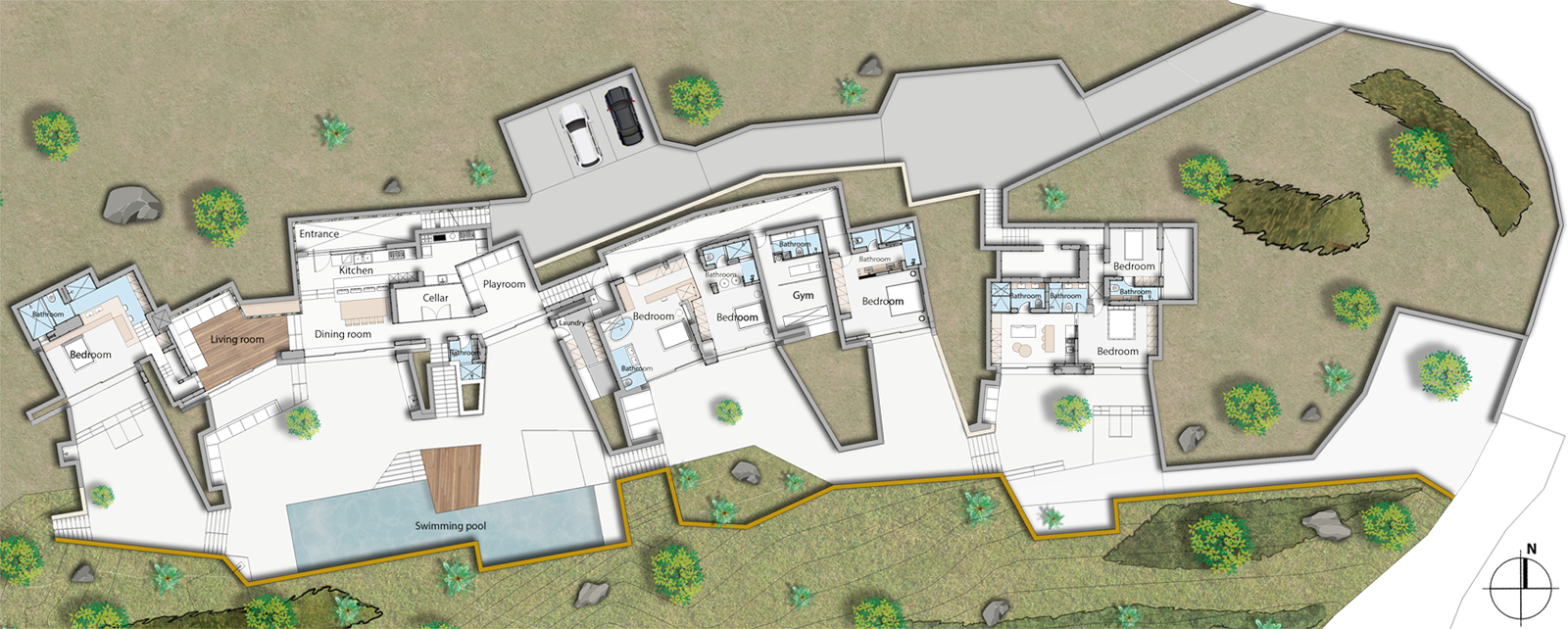 THE COVE VILLA
Photo Gallery